3D Names
- Search our classic name wallpapers, or generate realtime 3D Text in your browser
Welcome to 3D Names, this brand new version of our site is an all singing, all dancing new website and app that offers you amazing ultra high resolution 3D wallpapers as well as a powerful 3D Text generating engine.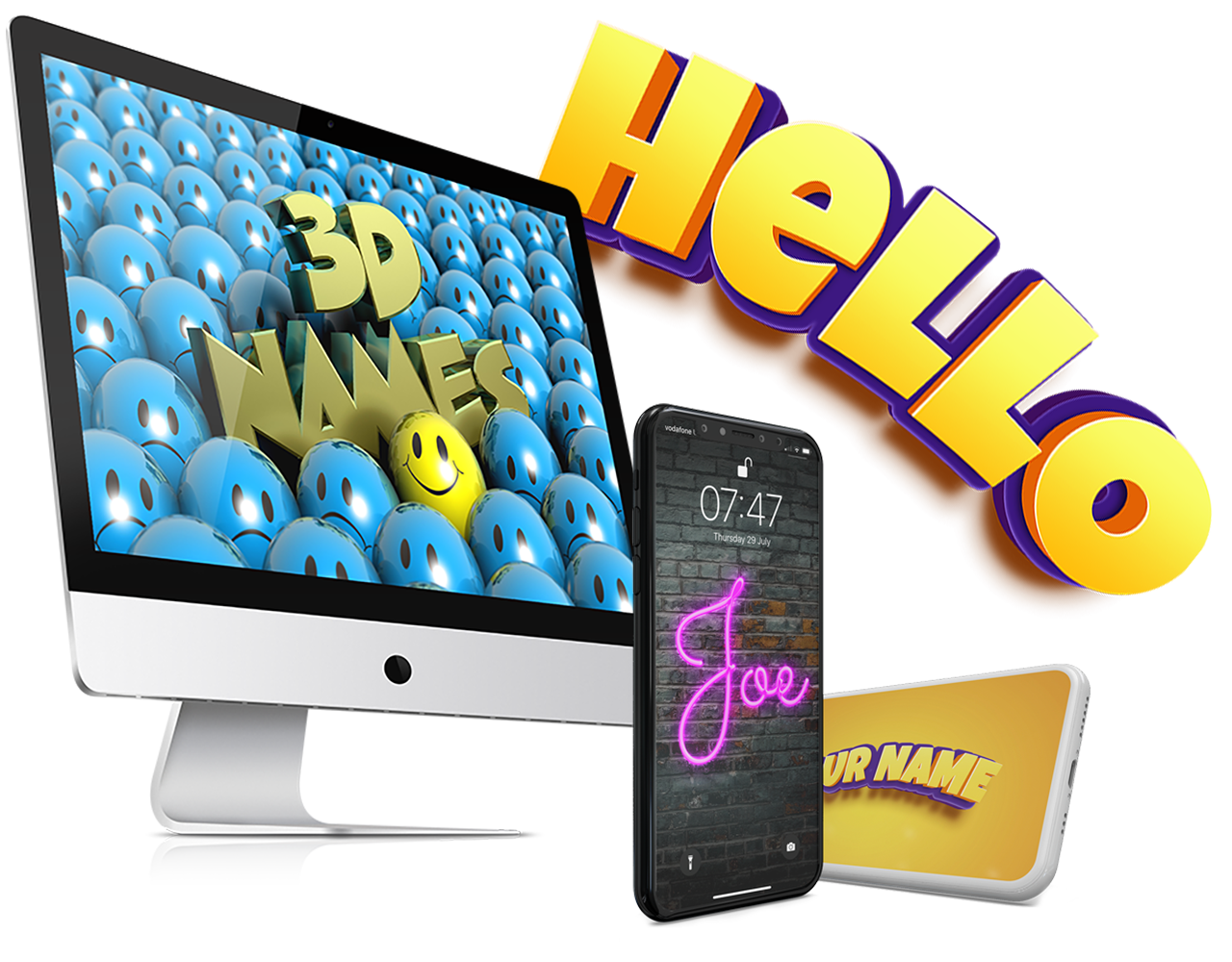 Brand New 3D Names Product
Realtime 3D Text Generator
If your name isn't yet in our list of 100,000 pre-rendered classic wallpapers, then this new update is for you. Generate Infinite 3D names and control exactly how you want them to look using your browsers in-built 3D
Use your Browsers 3D Engine
With this new experimental update from 3D names, you can now use your browsers 3D Engine to create your own 3D Text directly on your mobile or desktop in realtime.
Type any text you want

Our 3D Text generator uses the power of your browsers 3D to generate these interactive designs, so you can type any name or text you want

Pan, Rotate and Zoom anywhere

You can rotate the 3D text, zoom in, or move around using your touchscreen, trackpad or your mouse

Edit more than just the text

Depending on the scene, you can also edit other things such as the background colors, the surrounding environment, or choose different textures or 3D Objects
Infinite possibilities
Because the 3D Text/Scene is generated directly in your browser and because you can control exactly how it looks you can create unique, custom wallpapers to suit your mood.
Multiple Rows of text

The 3D text is not just limited to a single line, but you can now have multiple rows of text. Use this to create instant Stories for your TikTik, Instagram, Facebook or others social media applications

High-end devices required

Because these are using your computers (or smartphones) CPU or GPU power to generate the 3D in realtime, the faster your computer is the better. A fast internet connection is also a must as some of these files contain large files
Share and Create messages
All of these realtime 3D scenes can be shared to your friends so you can make a funny one for a friend and share it them so they can view it directly on their own device.
Share to everyone

You can easily share all of these with absolutely anyone (well anyone with a browser and internet that is!) - just click the share icon once you've made your design

Send Birthday Messages to friends/family

Take a look for the special birthday cake design, here you edit the To and From text, as well as set the balloons to display the age, you can then send this to any of your friends via the shareable link
Classic 3D Names
50+ Pre-Rendered Wallpapers To Choose From
If your device isn't yet powerful enough to run our realtime 3D Text Generator, then you can always just search our "Classic 3D Names"- these wallpapers have all been rendered out by our computers beforehand so you don'thave to, and are ready to download to your device. These are standard JPEG images, with some styles coming in 36 mega pixel formats (that's 6,000 x 6,000 pixels)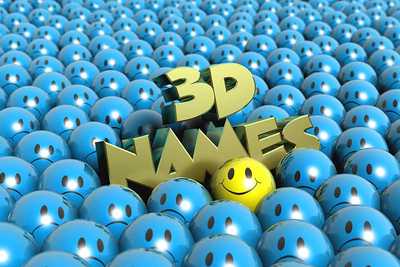 36 Mega Pixels!
Ultra High Resolution 6K Wallpapers
6K Wallpapers are 6000 x 6000 pixels in size... which is huge, that's 36 Megapixels of pure 3D awesomeness!
We now have 9 Wallpaper styles available in the new 6k sizes with over 100,000 searchable names to choose from, so if your name isn't on the list then you had better speak to your parents!
Try downloading some of the sample images and take a look at how detailed each one is... try setting it as your mobile background or use it as your desktop wallpaper on your gorgeous retina screen!
>> Try downloading the samples and take a look at how detailed they are!
3D Names Fundimentals
How 3D Names works?
Using our 3D Names App it could not be easier... download it now, and just follow these 3 easy steps:
Search for your name
Search our big library of over 100,000 names to see whats available for your first name.
Choose your wallpaper
See which of our 50+ styles your name comes in, and pick your favorite design
Watch Ad to download
To download for free just watch the advert, or complete the short survey... it's really easy
OMG!! I love 3D Names... I've literally had one as my wallpaper for the last 14 years. Pretty much the best site in the world! Ever! Period!
I love updating my iPhone and Macbook wallpaper with a cool 3D Name with my name on it, the designs are all super high resolution so look amazing with my retina screens.
Try it out now
🔎 Search for your name and see if we have a wallpaper for you!
Over 100,000 searchable names available in our database for you to instantly search for and download

Our servers contain Terabytes of images that available for you to search instantly, with over 12 million unique wallpapers in total!

Using our website you can search for your first name to see if we have it (we probably do!) and to download the wallpapers you need to either watch a small advert or complete a short survey... it's super simple!

3D Names are free to use in your personal or commercial projects, just make sure you read our licencing details.